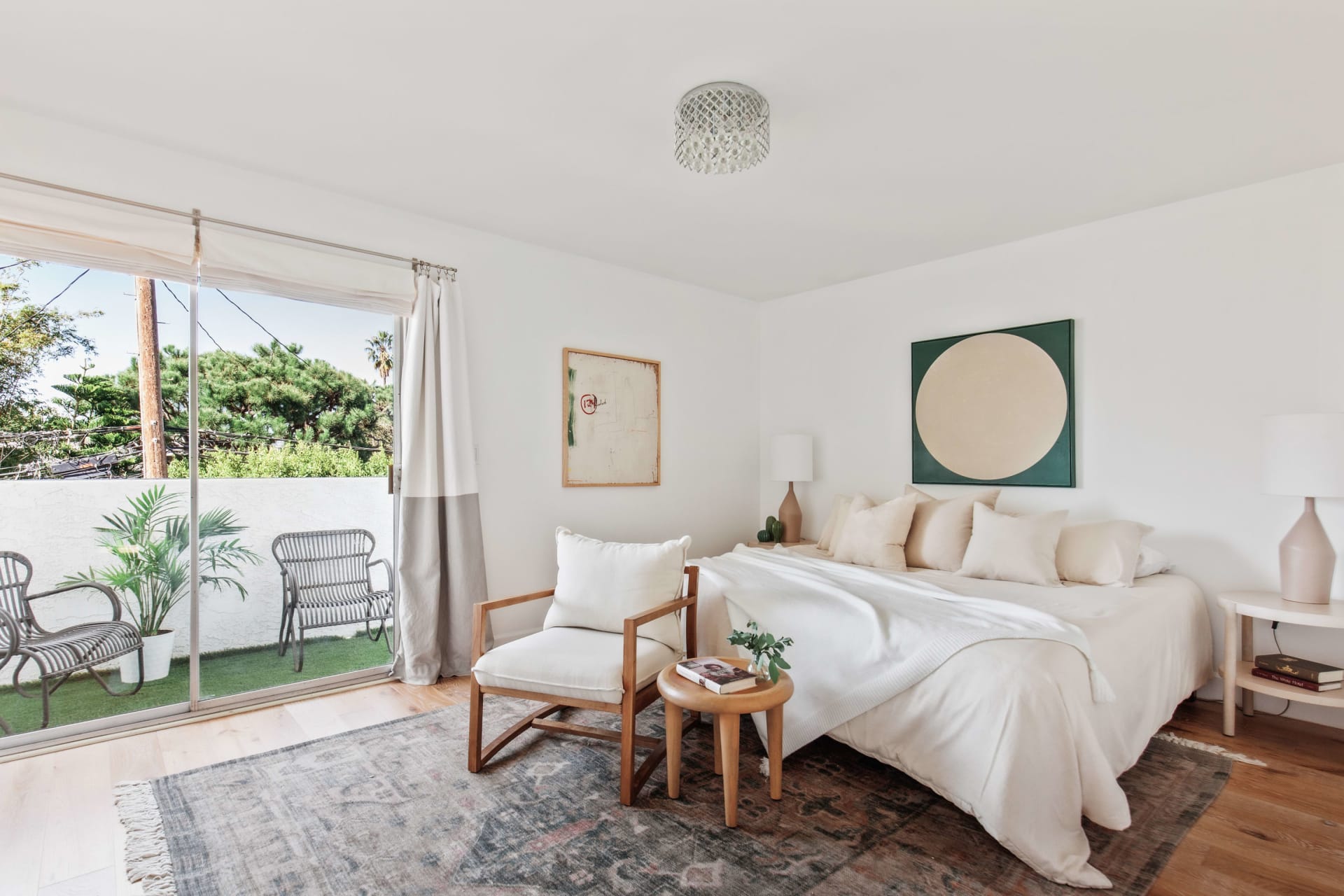 What a delight this sale Marina del Rey sale was! 671 Washington was stylish and happy from the moment I first walked in. I had met the Sellers J+S through other listings I had around the corner in Marina del Rey and Venice. When they called me to look at their home I was thrilled to help another Silver Triangle neighbor. This neighborhood is so special as it's the best of the Westside. You get beach proximity, walkability, a highly-rated local school, and you're not in the thick of the tourist traffic - I'm a huge fan! S+J also did the most endearing thing - they emailed over all their questions with a letter about themselves to me beforehand. It was like a Seller love letter and I realized just how special this home had been to their family. This was also helpful because I knew their priorities from the get-go, and was able to make sure we discussed all of those points during our time together. Once on market, we received 12 offers and accepted a bid almost 115% of our asking price.
OK, so now that you've heard how successful their sale was it's time to break down just how the magic happens!
How to Prepare Your Home for Market - And Maximize Your Return!
1. Add Green Space: I do this every opportunity I get! S+J had a great front patio that was beautiful and gave me Palm Springs vibes. It worked for their family, and it was ideal for the kids to play basketball. It was pretty, but it was not green. And green sells! I recommended my gardener to go over and install a high-quality drought-resistant turf, and freshen up the veggie/herb boxes in the front of the property. At the open house all of the buyers loved the green space, and now I kept hearing the word "yard" instead of patio. As the dogs and babies lounged and played out front I was soooo happy that they were willing to do this update!
2. Paint + Stage: Like many of my clients S+J have great taste! I think my aesthetic-first sales approach tends to resonate with people who actually already have great taste, so most of the time I'm impressed when I enter the door. The advantage to doing a full stage here was really less about replacing their objects, and more about creating a space plan that maximized the house's efficiency and highlighted its great scale. After living in the home for a decade with two kiddos there were a lot of personal items, and once those were out the home felt HUGE!
3. Perform a Pre-Inspection: I always recommend getting a home inspection before we go to market. There are a couple of reasons for this: First, the buyer's inspector will find the issues anyway so wouldn't you like to get ahead of it if there are small items you can correct or bid out for the buyer? Bottom line - you are more in control of the "problem solving" portion of the transaction when you can come to a buyer with a full picture and bids you've had time to thoughtfully gather. Second, by doing this you avoid what I call "The Reveal," in a transaction. The Reveal happens when a buyer has already stretched and is nervous that they won the bidding war (very normal phenomenon - because they won they start feeling they're overpaying) and when they find out that the house isn't perfect they really start to sweat. Now, I will tell you NO house is perfect, even new builds have laundry lists of items that could be improved/corrected. However, because the buyer is already nervous when they learn what the problems with the house are they sometimes FREAK OUT. It's funny because in my experience if you give the report to the buyer ahead of time even if there are items wrong they feel like they have the full picture before they put in their final bid. Secret: they usually pay the same amount! SO we avoid a potential buyer breakdown/emotionally driven repair negotiation and stick more to the facts.
4. Listen to Buyer Feedback: Before we went to market we had a buyer walk through the property. It's so funny what buyers will point out - but it's important to listen! The buyer thought the mirror in the powder room was too flowery and thought the washer/dryer were really dated. We were very proactive in handling these objections. First, we swapped out the mirror with a very neutral streamline piece. Second, we took out the washer/dryer. We had left them so that the new buyer could have machines while they waited to order new ones because with supply chain issues it can take months to get machines, and these still worked! But ya know, when they weren't there nobody complained about them being old, and nobody minded that they'd have to buy their own.
5. Fully Expose the Property: We made sure to get all of the interested buyers in! Though we had set an offer deadline we did get buyers who tried to "take it off the table" with strong offers before the deadline. These buyers wanted to limit our future showings, however this didn't make any sense as I knew others were counting on being able to see the home at the last open house. While I had a grumpy buyer's agent on my hands I would handle it the same way again and again. Ultimately, those buyers ended up towards the bottom of the offer pack and were unable to increase their offer over 2m. The buyers of the property wrote an extremely strong offer and completely deserved to win!
A huge thank you to J+S for their partnership in this sale. Besides creating a beautiful home, their responsiveness to the boots on the ground feedback made all the difference. They received stellar results and were always team players. It was a privilege to help them move on to their next chapter and I'm so happy for their family - you should see their new house! It's huge and has a pool - its goals already and they're not even done reimaging it!
You can take the full video tour here: https://www.youtube.com/watch?v=woPYVCd-lr8