Santa Monica is a sparkling beachfront town located about halfway between downtown Los Angeles and Malibu on the Pacific coast. Locals refer to Santa Monica as "The West Side," and many significant companies have their headquarters there, including Fatburger restaurants, the Hulu streaming platform, Xbox Entertainment Studios, and Lionsgate Films.
Approximately 90,000 residents live within its 16-square-mile footprint, and it's a year-round tourist hotspot. The Santa Monica beach proper, as well as its world-famous pier, are always filled with sun worshippers and outdoor enthusiasts. The pier features an amusement park, snack stands, an aquarium, and great fishing. Nearby Palisades Park is a green space where visitors can people-watch, soak in some rays, walk, bike, or picnic.
Year-round temperatures range from about 50 degrees to 70 degrees, so it's not surprising that Santa Monica homes for sale are going for a
median home list price
of $1,595,000 as of April 2022. Santa Monica real estate is still in a seller's market, even though its median home price has dropped slightly from a prior-year high of $1,735,000. A seller's market means that more buyers are searching for homes, but there are fewer available homes available for sale to satisfy the demand. The types of Santa Monica homes for sale can span many different architectural styles. Here's a rundown of the unique styles you'll find in the area.
1. Craftsman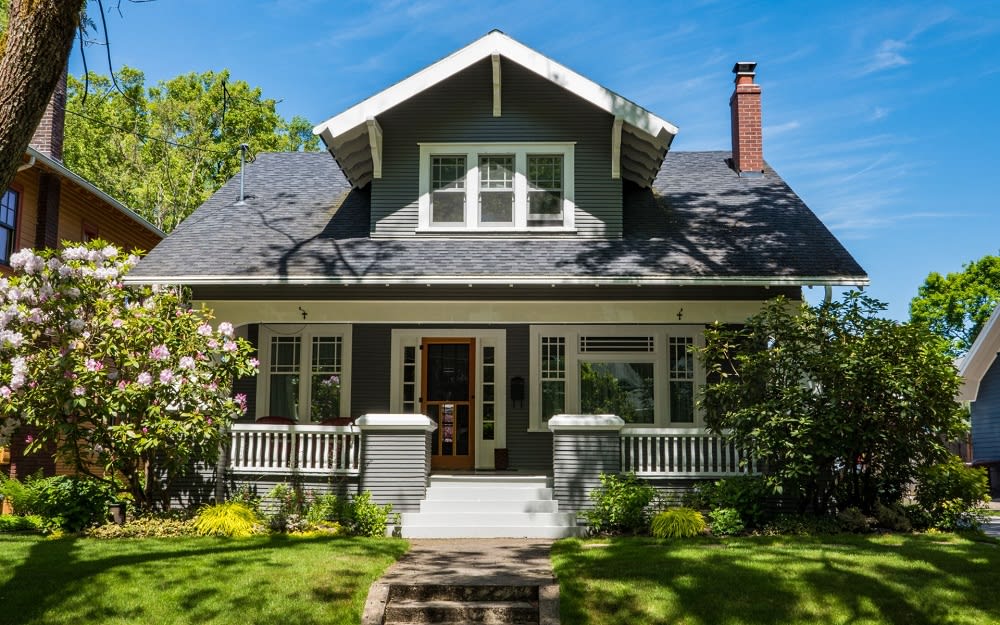 Craftsman-style homes
are seen throughout southern California, including Pasadena and Santa Monica real estate. The design prizes handmade details, such as tongue-and-groove joining and low-pitched roofs with gables. These homes also feature broad, shaded porches supported by thick, tapering columns, double-hung windows, and detailed woodwork both inside and outside. They rarely rise above one and a half stories high and often feature oversized bay windows edged with an overhang. The exteriors are usually painted wood siding in earth tones. An ideal example of Craftsman architecture is the famous
Gamble House
in Pasadena, designed by Craftsman pioneers Henry Mather Greene and Charles Sumner Greene in 1908.
2. Mission Revival
Mission Revival-style homes result from a direct influence of the California missions that dot the state from north to south along the 101 freeway. These homes amidst Santa Monica real estate are finished with exterior stucco in earth tones or vibrant colors. They are easily identified because of their low-pitch roofs covered with red Spanish clay tiles. Mission revival homes also feature broad arches and parapets, which are low protective walls that lie along roof or balcony edges. This design style showcases large square pillars, fancy iron elements, and covered walkways. An example of this architecture is found in the
Hattie McDaniel house
. McDaniel was the first Black actress to win an Academy Award for best supporting actress for her role as Mammy in 1939's iconic film Gone with the Wind.
3. Prairie
Prairie-style architecture
is based on the belief that structures should pay homage to the environment that surrounds those structures. This style involves functional spaces with an open floor plan, large central chimneys, and usually more horizontal space than vertical. Iconic architect Frank Lloyd Wright was a pioneer in this style and felt that each structure was "married" to the ground it sat upon. These homes are characterized by horizontal lines that are clean and minimalistic. Simple, natural woodwork is the emphasis, with lots of built-ins, including furniture. The first floors are open-concept except for the kitchen, which is usually hidden, and the home's windows are large and often take up an entire wall.
The Birtcher-Share house
is a shining example of Prairie-style architecture.
4. Midcentury Modern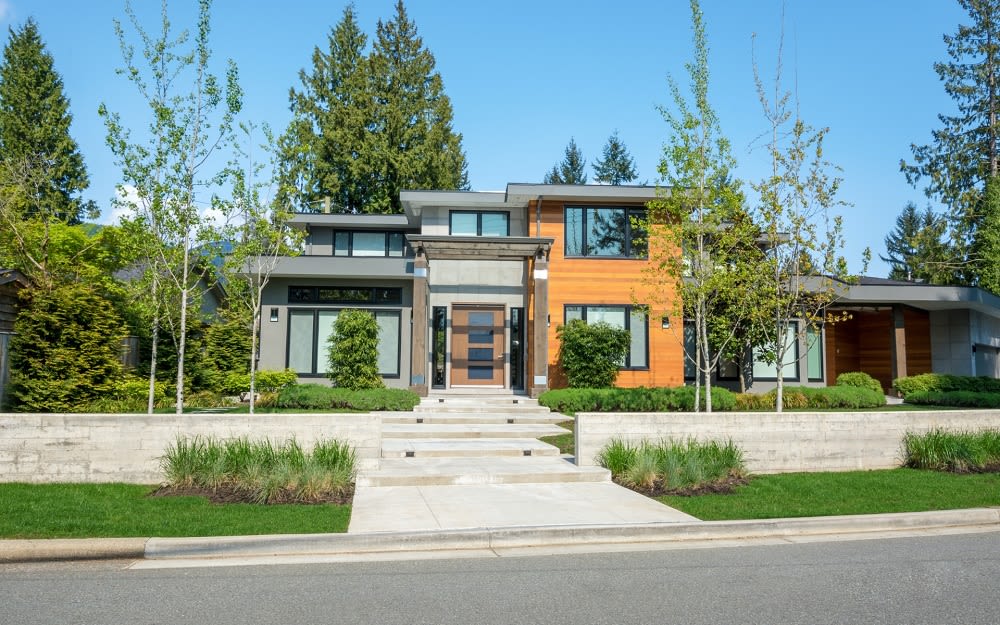 Midcentury modern architecture is categorized by its clean, wide, low footprints. Its finest examples feature floor-to-ceiling windows, open spaces, and the practice of bringing the outdoors inside the home. Rooms are rarely self-contained and offer multiple access points to yards and courtyards. Roofs are generally flat or low-pitched, and floor plans are usually split-level. Midcentury homes rarely exceed a single story. The style showcases short staircases, partial walls of brick or glass, and focal point, centered fireplaces. One of southern California's most famous examples of this architectural style is the
Eames House
.
5. Mediterranean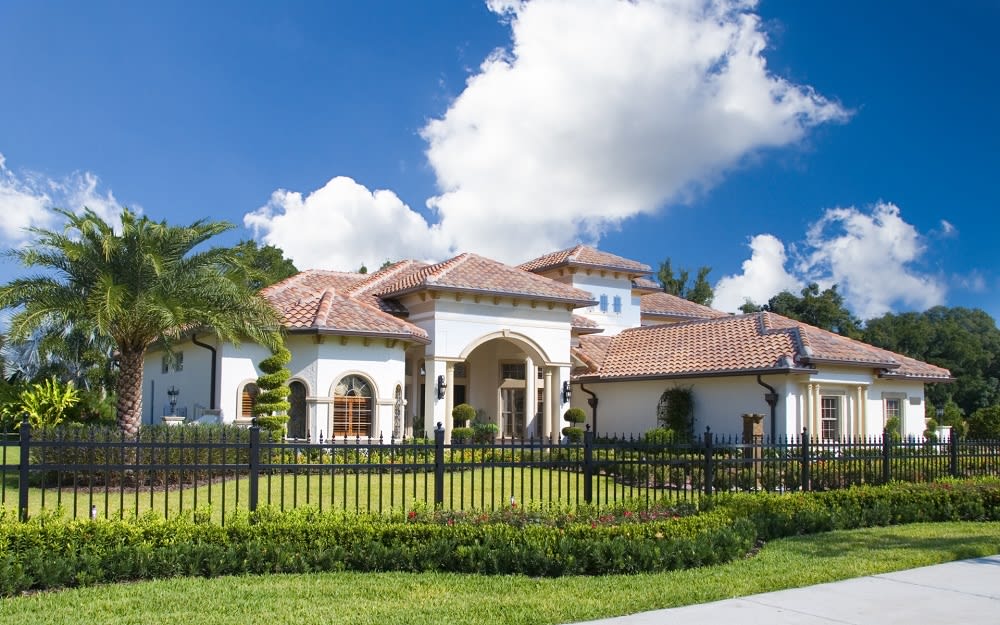 Mediterranean architecture is a mashup of styles from Italy, Portugal, Spain, France, Greece, Morocco, and other countries in the region. This style connects the homeowner with nature in structures that feature large windows and doors with access to expansive patios, terraces, and balconies. Most homes are one or two stories in height with symmetrical exteriors and a central front door that's usually heavy, carved wood with iron accents.
Mediterranean homes are instantly identifiable due to their red clay roof tiles shaped like a "c" or half tube, along with interior and exterior stucco walls and ornate archways. They also showcase wrought iron decorations, window grills, and balconies, as well as integrated indoor/outdoor patios, atriums, and terraces. An example of Mediterranean architecture is actor
Douglas Fairbanks' home
which was built 100 years ago and still looks timeless.
6. Spanish Colonial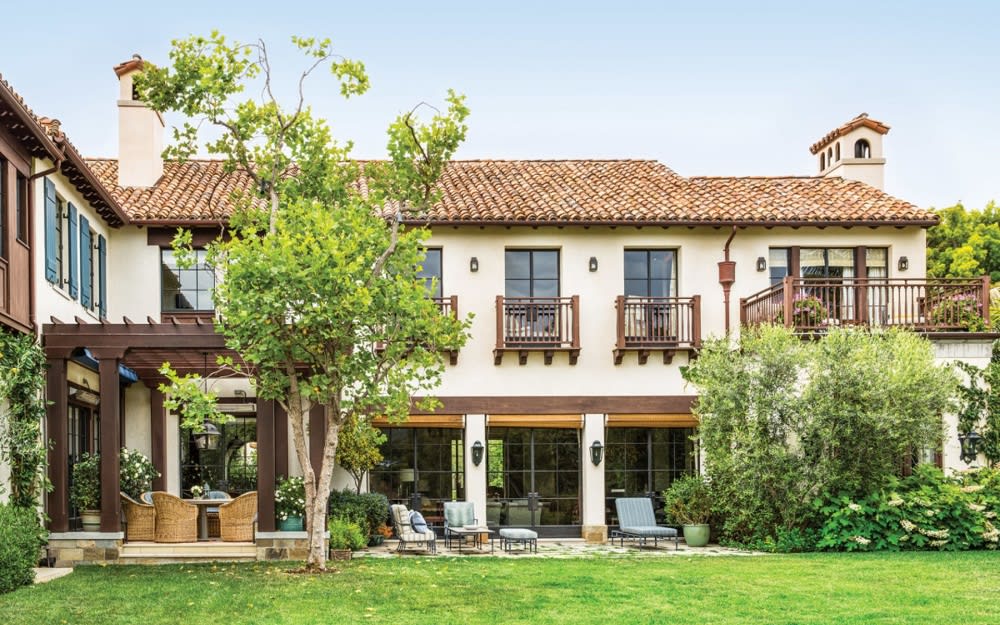 Photo Courtesy of Period Homes


If you asked most people who are not from California what house style they most associate with southern California living, the answer would likely be
Spanish Colonial
. Red clay roof tiles are a telling feature here, as are thick, white stucco walls, which help to keep the house cool during warm days. No color here other than the tiles on the roof and within the home. Another climate-controlling feature is small or very few windows, which is offset by the presence of a courtyard where residents can revel in the outdoors. Because white stucco can be somewhat plain, these houses are built with sturdy, exposed wooden beams not only for strength but also for aesthetics.
Local Realtors don't only know about Santa Monica homes for sale; they can help you determine which architectural style best suits your taste. When you're ready to get started on your home search, reach out to trusted local agent
Stormie Leoni
for guidance.